Hotline Nos. Awards: +91 9313034080, Conference: +91 8595350505, Exhibition: +91 8595350525
Mr. Unnat Varma Managing Director, Pizza Hut, Yum! Restaurant India
An accomplished professional, Unnat Varma is MD, Pizza Hut at Yum! Restaurants India. Yum! Restaurants India is a subsidiary of Yum! Brands which owns the brands - Pizza Hut, KFC, and Taco Bell worldwide.
Unnat brings with him a vast Marketing & Sales experience of over 19 years. He has been with Yum! Brands for almost 10 years and had joined the company in 2006 as the Director Marketing - KFC for the Indian Subcontinent. After spending 5 years in that role and successfully building the foundation of KFC's growth in India, in 2011, he was assigned the responsibility of building Taco Bell as the next growth engine for Yum! In 2014, he also took over as the General Manager of Pizza Hut.
Prior to joining Yum! Brands, Unnat spent 12 years with Gillette in India holding various key Marketing & Sales positions. Mr.Unnat has a degree in Engineering and Management from University of Poona. He did his MBA from Symbiosis Institute of Business Management, Pune.
12:00 PM - 1:00 PM CATCHING UP WITH THE CONSUMER
Mr. ArvindVohra, Country CEO & MD, Gionee India
Mr. Manoj Gupta, Founder, Craftsvilla
Mr. Shiv Inder Singh, Managing Director, Firefox Bikes
Mr. Vikas Agarwal, General Manager-India, One Plus India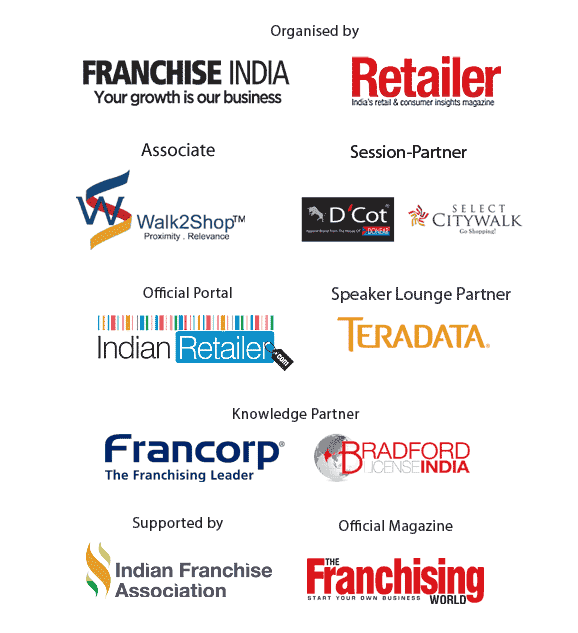 Copyright © 2017 Franchise India Holdings Ltd.
Powered by: