Hotline Nos. Awards: +91 9313034080, Conference: +91 8595350505, Exhibition: +91 8595350525
Retail Award Categories
Recognising Excellence in Indian Retail Awards
Best in Retail Category Awards
These Awards will recognise leading organisations for their growth in the year 2015-16 and for Customer Satisfaction.
Apparel Retailer Leading branded fashion retailers across Western/ Ethnic categories
Home Delivery Applicable to Retail Businesses that have a Home delivery business model
Jewellery Retailer It is applicable for leading branded gold, diamond and semi-precious jewellery and accessories Retailer
Kiosk Retailing Kiosks in Restaurant/Food Service; beauty & wellness; Art jewellery; specialty product /service
Footwear Retailer Footwear Retailers for men/women/ children
Automotive Industry It would be for Corporate dealers and distributors of Auto & auto products
Pharmacy Applicable to Pharmacy Businesses, particularly Pharmacy
Best in Customer Service - Financial Services It will be given to Financial Services companies with retail models
Toys & Stationary Applicable to toys, stationary and children's play products retail chains.
Specialty RetailerRetailer specialising in a product and service meant for the niche consumer
CDIT & Telecommunications Retail Including Mobile and electronics stores, gaming & entertainment Retail Zones
Beauty Salon & Spa For Beauty Salons & Spas who have maximised their footprint & developed service excellence in the business
Home Retailer Including Furniture, Furnishings, Bath, Kitchen, cookware retailers
Fine Dine Restaurant It is applicable to both In-hotel & standalone Fine Dine Dining places
Luxury Retail – Fashion Applicable to luxury fashion Retailer in India The above mentioned Retail category Awards will be separately nominated and awarded across three dimensions of retail size
National Retailer Applicable to retailers with footprint in at least 2 regions or more
Café Restaurant It is applicable to cafeterias with multiple standardised outlets
Quick Service Restaurant It can be applicable to any QSR that serves quick and quality-consistent food all along
Large Format Retailer Applicable to stores of at least a size of 10,000sq.ft. or more, & for a departmental or single category stores
Best in Customer Service – Food & Grocery Applicable to Grocery Retail Businesses
Regional Retailer Recognizing the regional retailers North/South/East/West
Fashion Accessory Retailer of the Year Retailer specializing in fashion Accessories
Book/Music Retailer of the Year Retailer specializing in books/music merchandising
Leisure and Travel Retailer of the Year All formats of Retail specialising in leisure and travel products/services
Emerging Retailer of the Year This category recognises the new Retail concepts that have carved out a niche for themselves in the highly competitive Retail arena
Luggage Retailer of the Year Recognising excellence in Luggage Retail
Most innovative Retailer of the Year Retailer employing innovative ideas to enhance customer experience
Wellness For wellness enterprises who have maximised their footprint & developed service excellence in the business
Best Shopping Mall of the Year - Regional Shopping Malls that have find resonance with customers and retailers alike
Best shopping mall of the year – national shopping malls that have found resonance with customers and retailers alike nationally
Lifetime Achievement Award Recognises Retail/e-Retail professionals who have devoted their entire career towards the progress of the Industry
Retail Property of the Year (Regional) Recognising Retail properties across four regions
Customer Service Excellence AwardRecognizing excellence in customer service
Small Format
Business strategy performance awards
These Awards recognize the Business Strategies that Retailers have installed to achieve peak levels of business excellence.
Store Design of the Year<1000sq.ft This category is looking to find the outstanding store designs. Open to all retail sectors and stores, with sizes less than 1000sq.ft.
Best Use of Social Media and Communication Strategy Award The Award will be given to the Retailer who has optimised Social media to leverage better customer service.
Store Design of the Year>1000sq.ft This category is looking to find the outstanding store designs. Open to all retail sectors and stores with sizes greater than 1000sq.ft.
Retail Leadership Award This Award will recognize a CXO-level Retail Professional who has demonstrated exceptional leadership and vision in the field of customer strategy serving as an inspiration to others
Pure Play Retailer of the Year This award is open to all those retailers who conduct their business purely online and do not have any physical (bricks and mortar) stores where customers can shop.
Best Application of Technology Award This Award is open to any Retailer that has successfully applied technology as part of an overall strategy to improve its customer service and satisfaction offering.
Best New Retail Launch The Jury will be looking for exciting new store-based retail concepts that are already creating new standards and winning approaches to a market.
CSR Initiative of the Year The award honours the retailer who have, by their actions, demonstrated that they are outstanding corporate citizens through on-going high standards but also have to their credit a distinctive and effective initiative undertaken in the last 12 months.
Customer Loyalty Initiative of the Year This Award is open to any organisation that has instigated a new and innovative way of improving its customer loyalty.
Retailer of the Year The Top Honour will recognize the Retailer who has achieved holistic growth and created positioning of the business through specific initiatives and developments introduced
HR Strategy of the Year This Award is open to any Retail organisation that has an Employee Engagement strategy that has led to an overall improvement
Marketing / Advertising Campaign of the Year This category recognises any marketing initiative - whether an advertising campaign, promotion, sponsorship or online marketing initiative - which has delivered genuine results for the Retailer.
Retail supplier awards
The Retail Supplier would recognize Solutions-provider across Real estate, Logistics, Technology & customer programmes that have enabled better customer experience for businesses at large
Best CRM Technology Provider<1000sq.ft Industry expert who enables and accelerates the journey to integrated customer management and the delivery of an intentional customer experience in retail
Automated kiosks provider Mobile and self-service kiosk technology deployments across all Retail market segments including Customer Education; self checkout, etc
Best Loyalty Solution Provider The Award will be given to a loyalty provider who brings a solution satisfying shopping experience to their customers
Best Logistics Service Provider Will be awarded to logistics, courier, delivery Companies, who have been voted as Best Service providers to retail business
Quality Customer Service Enabler An overall Software/ Hardware provider for achieving overall High Customer Service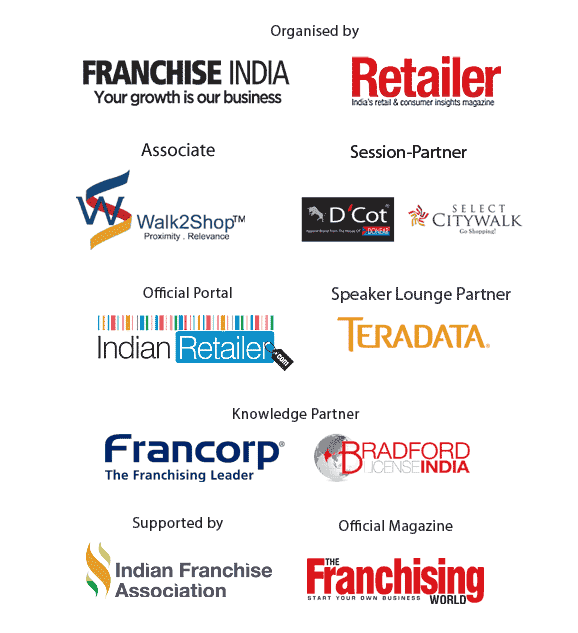 Copyright © 2017 Franchise India Holdings Ltd.
Powered by: