Hotline Nos. Awards: +91 9313034080, Conference: +91 8595350505, Exhibition: +91 8595350525
eRetail Award Categories
Recognising Excellence in Indian e-Retail Awards
Best in Retail Category Awards
The category leaders who enjoy the largest market share and are also leading innovation for the growth.
Fashion eRetailer of the Year eRetailer specialising in Clothing, footwear, watches, jewellery, accessories
Luxury eRetailer of the Year eRetailer in the luxury category whose services/products are also sold online
Quick Service Food Delivery eRetailer of the Year eRetailer into quick service food delivery via online order placement
eRetailer advertising campaign of the year Best advertising campaign for eRetail promotion
Health & Beauty eRetailer of the Year eRetailer specialising in Health, Beauty and Pharma products and services
Book & Music eRetailer of the year eRetailer specialising in books and music merchandising online
Consumer Durables eRetailer of the Year eRetailer specialising in consumer durables, IT and telecommunication products and services
Specialty eRetailer of the Year eRetailer specialising in a product and service meant for the niche consumer
Home & Lifestyle eRetailer of the Year eRetailer specialising in hard and soft furnishings and accessories for home
eEducation Services of the Year Online educational services
Leisure & Travel eRetailer of the Year eRetailer specialising in leisure and travel services like e-ticketing, travel
Gaming eRetailer of the Year Organisations into selling online games
Gifting eRetailer of the Year eRetailer in online gifting
eRetail Store of the Year eRetailer specialising in ordering daily need products
eRetailer of the Year Best eRetail website
eRetailer of the Year - Value for Deals eRetailer who gives best deals for brands and non-branded products and services
eRetail Leadership of the Year The professional with significant achievements as a mentor/leader, under whose leadership the company has grown tremendously.
Lifetime Achievement Award Recognises Retail/e-Retail professionals who have devoted their entire career towards the progress of the Industry
Jewellery eRetailer of the Year It is applicable for leading gold, diamond and semi-precious jewellery and accessories e-Retailer
Best Omni-Channel Retailer of the Year This award recognises the retailers who into multi- channel retailing
Special awards category
These special awards are for individuals and companies who have created path breaking trends and who have led unprecedented innovations that have uplifted the morale of the entire eRetail industry.
Pure-Play eRetailer of the Year New and established pure-play online retailers without a physical store, demonstrating best practices in merchandising, service, functionality and customer experience.
Marketing/Advertising Campaign of the Year This category recognises any marketing initiative - whether an advertising campaign, promotion, sponsorship or online marketing initiative - which has delivered genuine results for the eRetailer.
Debutant eRetailer of the Year Best start-up (launched post Jan 1, 2015), be it pure-play or multichannel, someone who demonstrates a sound, innovative and effective business strategy to develop a growing customer base.
eCommerce Site Innovation Award The most imaginative development of the year, in terms of content, service, technology, marketing or all of the above. Clear demonstration of platform advancement improvements beyond accepted norms like customer reviews, click and collect, etc.
Smart use Technology eRetailer of the year eRetailer utilising available technologies or proprietary systems that deliver improved efficiencies for the business, better customer experiences and valuable analytical data to continually improve customer experience.
Re-design/Re-launch of the Year Screenshots of the old website will need to be provided to compare with your new one, allowing the judges to assess both content and overall look and feel.
Most Innovative eRetailer The most imaginative initiatives in the online retail space, ranging from site design, usability, customer experience, service, need fulfilment or any other area of the eRetail discipline.
Innovation in Delivery Award This award will recognise the company that can demonstrate, through service improvements, product innovation and technological enhancements, a measured improvement in service and customer satisfaction.
Best eRetail Marketing Initiative An award for the best online eRetail marketing initiative, via a single channel or an integrated campaign, such as email, mobile, social media, search, offline, live events or a combination of many.
Best eCommerce Payment Innovation The company who has thought creatively about the payment gateways. Multiple payment options are a must and also evidence on how customers are accepting the options.
Best Customer Experience This award will be ranked on the basis of site usability, product and content and efficiency of delivery and customer satisfaction.
Best Use of Social Media Social media employed to demonstrate business benefit in an innovative way. Active conversations on Twitter, use of Facebook and blogs are becoming standard; what sets your social media engagement apart from the rest of the pack?
Best in Customer Service – Eservice Provider It can be applied by Business service portals in Travel; education; insurance; healthcare; matrimonial; astrology or specialty services
Outstanding Contribution to eRetailing Award Individual having contributed significantly to the eRetail industry in India. In terms of economic redemption and developing the overall eRetail ecosystem
Best Site Optimisation & Design This award is for the best overall site design from an aesthetic, usability and technological perspective with specific focus on conversion optimisation features to improve shopability and the path to purchase.
eRetail Solution Provider of the Year Enterprises playing supplier to the eRetail companies largely taking care of backend functional roles like handling logistics, warehousing, website hosting, payments, web based software/services, etc.
Emerging eRetailer of the Year This category recognises the new eRetail concepts that have carved out a niche for themselves in the highly competitive eRetail arena.
Brands with outstanding eRetail performance
Leading retail and product brands which have shown exceptional performance in online retail.
Clothing brand (sports and fashion brand) The leading branded fashion retailer with the greatest online offers, styles and trends
Sports brand The leading branded sports fashion retailer with the greatest offers, styles and trends
Furniture brand Leading online brand for furniture, luxury interiors and home accessories
Best footwear brand The leading branded fashion footwear retailer for men and women
Kids clothing brand The leading brand with the greatest offers, styles and trends for children clothing
Best brand in CDIT (TV, Video, Audio) Best brand offering great product assortment in white goods.
Jewellery brand India's largest integrated branded gold, diamond and semiprecious jewellery and accessories
Best computer brand (Laptop, desktop, ipad, Computer accessories and components, Software) Leading brand in gadgets and gizmos arena
Accessory brand The leading brand with multitude of accessories in e-retailing
Best mobile and accessory brand The brand leading the best practices in m-commerce
Beauty and personal care brand Leading brand in beauty, health and personal care products
Best Home brand Leading brand in the latest fashion trends for the home and interiors including kitchen, home appliances, brown goods
Best FMCG brand Best online brand in action in FMCG arena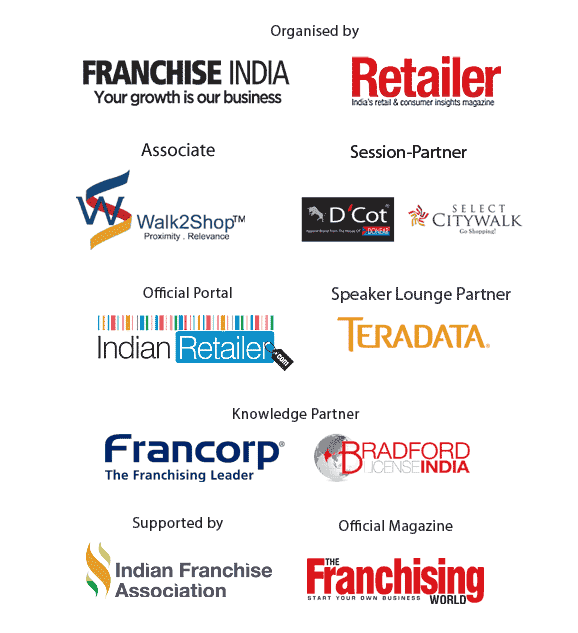 Copyright © 2017 Franchise India Holdings Ltd.
Powered by: