Hotline Nos. Awards: +91 9313034080, Conference: +91 8595350505, Exhibition: +91 8595350525
eRetail Award Overview
Celebrating the Brilliance of eBusiness!
The transformation of online businesses into unicorns has been only possible by the grit and absolute hardwork by the brilliant people behind this grand vision. Indian eRetail Awards 2017 is the new beginning of an era of Entrepreneurs whose collective self-belief is embarking the dawn of eCommerce in India. This exclusive awards show is a tribute to the ones who have been on the edge of challenges and have tamed all the hurdles to propel growth while integrating increased profitability, omni-channel retail strategies, enhanced user experiences are few leading examples of marketing excellence and business dynamism. The arena of virtual marketplaces will be lit forever on this big day that's going to be remembered throughout the worldwide web!
A click is all it takes to make it big!
Benefits of applying for indian eRetail awards 2016
In order to stimulate the e-commerce & Multichannel retail in India, the Indian Eretail awards to the leading web shops will not only enhance their business value in the eyes of the customers, but also attract the right vendors, investors and partners to the retail enterprise. Armed with a trophy / plaque, winners will receive both an extensive media coverage as well as PR opportunities with prospective partners. Above all, the winner gets a chance to be featured in the Retailer magazine, thereby garnering national as well as international recognition.
National Recognition as the best eretailer, manufacturer or supplier in India
Feature story in Retailer magazine
Success stories to be shared with other emerging retail businesses
Lateral Access to a vast number of business resources
Conquer the eRetail space
Every company has its own DNA, with which it tries to connect to its customers in a multichannel and digital world.The Indian eretail Awards will bring to the forefront the online/mobile channel, multichannel strategies, in which it is the consumer who is dominant, not the channel.
Nomination and Evaluation
Each applicant would be required to fill in a Self-Nomination form and send it to us by 20th April 2016
Any organization / individual from any sector can apply. Each applicant can apply for one or multiple categories, except the ones which states "Jury Nomination"
Self-Nomination forms should be sent along with the prescribed fee to Franchise India. The nominees in each category will be presented to the final jury for determination of winners
Evaluation would be done in two phases: Firstly by jury and then by voting. In select categories, online polling would also be conducted to support the jury's decision.
The Jury's decision is binding on all applicants
Entrepreneur India would be the Process Advisor for the awards
Information received will be treated as confidential and not used for any purpose except for determining the winner of the Awards
Incomplete questionnaire in any manner will disqualify a participant from participating in Awards
Right to permit participation is reserved with Awards Management
For Award Nominations
Abhinav
09313034080
Mail at: awards@franchiseindia.net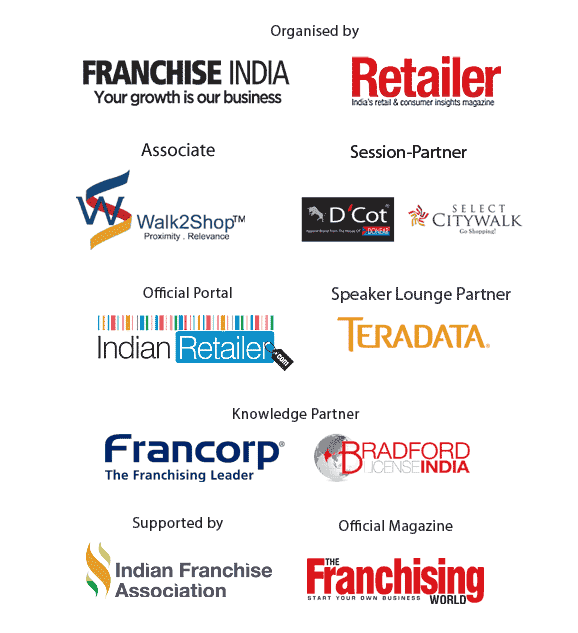 Copyright © 2017 Franchise India Holdings Ltd.
Powered by: