Hotline Nos. Awards: +91 9313034080, Conference: +91 8595350505, Exhibition: +91 8595350525
Licensing Conference Overview
Discover Brand Extensions, Innovations & Product Diversification
The Brand Licensing Conference 2017 will create targeted information and knowledge to take your business to the next level with new strategies, innovative ideas and practical solutions covering everything from retailing strategies to the legal side of licensing to extending your brand into new categories and retail areas.
While the licensing industry worldwide is worth $200 billion plus, it is still at a nascent stage in India. Fashion retailers stand ahead of the pack, as nearly 25 per cent of organised retailers use licensing strategy to widen their merchandise offerings and assortments. Also, character licensing, celebrity licensing and movie based merchandising are gaining popularity in India like never before.
Brand Licensing Conference 2017 allows delegates to discover licensing in easy-to-understand manner and provides deeper insight of the business concept. The forum invites professionals from across the industries, to understand and comprehend 'Brand Licensing' in multiple genres for product, promotional, and brand. The conclave promises to be an interesting content extravaganza, with world's leading subject experts echoing best practices for better, smarter & efficient licensing deliverables in Indian scenario towards uplifting the benchmarks of Indian licensing realm.
Key Highlights
Top industry experts addressing sessions | One to one networking opportunities | Platform to learn licensing comprehensively | Gain both domestic & global licensing perspective | Business aspect coverage from strategy to execution | Case studies evaluation - Get exposed to what others are doing in licensing | And, Much More!
Who Should Attend?
Brand Owners: Licensors / Potential Licensors | Strategic Planners & Marketing Professionals | Retailers from all industries | Product Sourcing Professionals/ Buyers/ Product Development Teams | Manufacturers from all industries | Wholesalers/ Distributors | Agents / Consultants: Licensing Agents, Advertising or Marketing Agencies, Promotional Strategists | Management Students
For Conference Delegation
Himanshu
08595350505
Mail at: conf@franchiseindia.net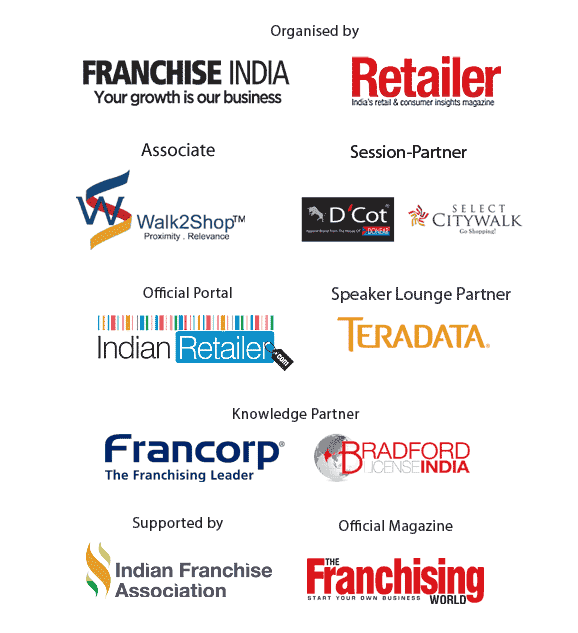 Copyright © 2017 Franchise India Holdings Ltd.
Powered by: