Hotline Nos. Awards: +91 9313034080, Conference: +91 8595350505, Exhibition: +91 8595350525
Time: 10:40 AM - 11:30 AM
The Retail industry has undergone rapid changes in the last 20 years.Retail business need to build change in their thinking, business management, organisation, consumer delivery and growth.
The opening session will be a vision setting by the Think tank of the Retail industry by reviewing
The Retail business of change – Retail Vision 2020
How much do we know why people buy and is it enough
Trends to drive eCommerce strategy in 2016
How consumers have accepted different retail channels
What they are expecting from today's retailer



Mr.KrishIyer, President & CEO, Walmart India Pvt. Ltd.

Krish Iyer, President & CEO, Walmart India is a Commerce (Hons) graduate from University of Mumbai. He is a certified Chartered Accountant and an associate member of the Institute of Chartered Accountants of India. A long-term retail professional, Krish brings...Read More




Mr. R S Sodhi, Managing Director, GCMMF (Amul)

Shri R S Sodhi, age 56 years, is Managing Director of Gujarat Cooperative Milk Marketing Federation (AMUL), which is India's largest Food Products organization with a turnover of Rs.23005 crores. GCMMF (AMUL) markets dairy and food products under the popular brand name "Amul", Asia's largest milk brand which is owned by 3.6 million milk producers of Gujarat..Read More




Mr. Vishal Mehta, Founder & CEO, Infibeam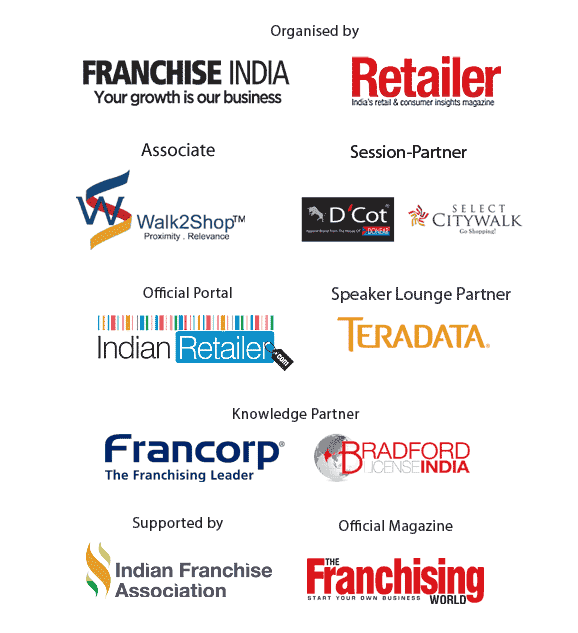 Copyright © 2017 Franchise India Holdings Ltd.
Powered by: