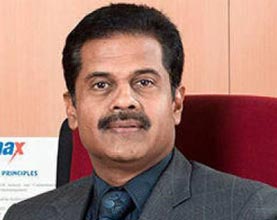 Vasanth Kumar
MD, Lifestyle International
Vasanth Kumar is the Executive Director of Max Fashions and EasyBuy India and is also Board member of Lifestyle International. As head of Max India operations, Vasanth is spearheading the brand's aggressive growth plans since its inception in 2005 and Max is already the largest brand in the segment with over 165 stores across 60 cities in India with turnover of Rs 1800 crore in 2015-16.
Vasanth is also overseeing Easybuy, a newly-launched value apparel concept for small cities in India. Easybuy currently has a distribution of 14 exclusive stores and 11 Hypermarket (SPAR) shop-in-shops and is targeting Rs 160 crore turnover in its second year of operations.
With an illustrious marketing career spanning 25 years, Vasanth has a rich and diverse career in marketing, sales and retail management in the apparel, FMCG and consumer durable industries in India. Vasanth Kumar started his career with a sales & marketing stint in Hindustan Unilever, where he handled various marketing campaigns and product launches.