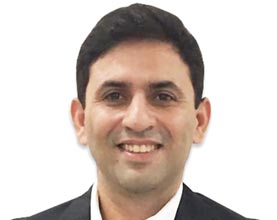 Sunil Khosla
Executive Vice President - Sales & Marketing, India Transact Services Limited
Sunil Khosla is an industry expert with about 18 years of experience in Sales, Marketing and Fintech sectors. Associated with India Transact Services Limited (ITSL), a Group company of AGS Transact Technologies Limited, since 2015, he spearheads Retail Sales & Marketing and develops Go-to-Market strategies for a faster, sustainable & a more inclusive growth via Merchant partnership services, Payment Ecosystem and Pragmatic Distribution including BOP.
Prior to joining ITSL, Sunil held leadership positions at Danone, ITC Limited, Max Newyork Life and Pidilite Industries. He has extensively anchored business transformation, Change Management, Channel innovation along with global strategic projects.
Sunil is a post graduate in Marketing & Finance. Also, he is an active member of Rotary International.
For more information, please visit: www.indiatransact.com
For queries, contact: prteam@agsindia.com