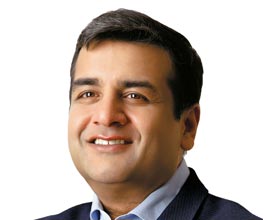 Samir Modi
Executive Director, Modi Enterprises
Mr. Samir Modi is Senior Vice President, CACCI. He is concurrently Executive Director, K. K. Modi Group; Executive Director, Godfrey Phillips India Limited; Director, Indofil Industries Limited, President, Twenty Four Seven Convenience Stores, Managing Director, Colorbar Cosmetics Pvt. Ltd. and Managing Director, Modicare Private Limited.
After finishing college in India, he started his career working for Philip Morris U.S.A first as a trainee in the Tobacco fields of North Carolina and then its plants in Richmond, Virginia. He then joined the international division of Philip Morris and later he became the brand manager of Marlboro cigarettes.
Mr. Modi came back to India in 1994, and his first task was to revive K. K. Modi Group's consumer goods business. In a short span of time, he was able to turn around the group company, Modern Home Care Products Pvt. Ltd., and also gained substantial share of cleaning products market in India. He later sold the brands to Henkel of Germany after wiping all the losses and making a profit.
With a dream of creating enormous wealth and financial freedom in India, Mr. Modi started the first Indian Network Marketing Company, Modicare, in 1996, marketing consumer products. Mr. Modi felt the need to create a world-class cosmetic company, so Colorbar Cosmetics was born in 2004.
Mr. Modi is also the brain behind India's first of its kind 24-hour convenience store - Twenty Four Seven Retail Stores launched in 2005. He plans to open over 1,000 stores in the next 5 years.
Regarding social responsibility, Mr. Modi established the Modicare Foundation in 1996, aiming to prevent the spread of HIV/AIDS in India. The Foundation won the President's Award for their exceptional work in gender related issues in India. The Foundation is also working with children to educate them on life skills.
Mr. Modi is a graduate from the Hindu College, Delhi University and an alumnus of Harvard Business School, U.S.A.